Lessons from Project Management
Interior of Our Homes Are Our Inner Sanctum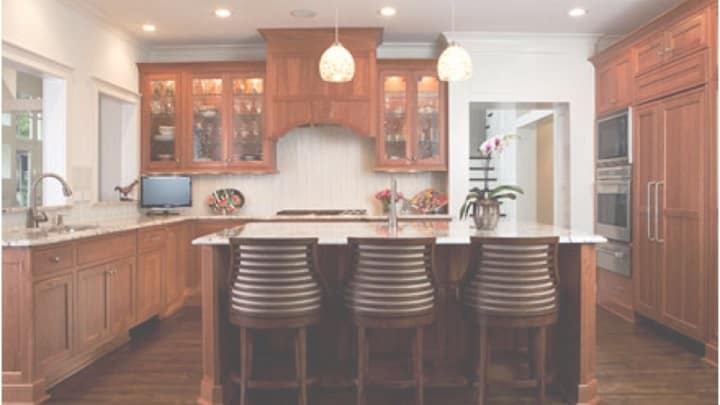 Before the housing market crash of 2008, I thrived in a small kitchen & bath retail store and cabinet shop. I was the project and business manager. This path taught me a lot about builders, owners, sales, product information, and of course customers. In 4 short years of being in this shop, I pretty much did everything the owner did. Our slogan was from conception to completion we will make your dream come true. I worked with every kind of builder, contractor, and customers that would come through our doors. Most were nice and friendly people that were excited to have their dream kitchen or bath that they've always wanted. Others had to rebuild from a fire or damage and needed to work within a budget usually dictated by insurance companies.
I spent time at quarries, tile shops, and every surface provider known to man. I have always enjoyed learning about low to no impact on the environment cabinetry with real wood. Reminds me of back in my junior high days where I took wood shop. Dovetail drawers are the best cabinet drawer design for repetitive use if you didn't already know that fact. The innovations of kitchen and bath industries still amaze me. Not just all the technological advances we have had but in the repurposing and minimal impact kitchens with accessories for our ease. Soft close drawers and pull out lazy susan drawers were just coming out in our little town about that time.
I have always had an eye for reading what customers wanted in their interiors as well as what their budget would be. I'd work with the blueprints given by the contractor or builder and go get physical measurements. Not every house is perfectly boxed no matter how good the builder is. Settling does happen and I would help with those tweaks. The customer would come in and had a brief idea of what they were looking for. We'd go over the styles of doors, hard and soft woods, the advantages of the earth-friendlier cabinetry. Standard cabinetry box sizes come in 3″ increments most starting with 12″ and 3″ filler pieces can be a more decorative use. There were special cases (custom cabinetry) odd sizes that I liked to draw up too. We'd go over solid surfaces in a variety of colors, strengths, durability, and more. In most cases, I would help with entertainment centers, bars, paint selections, windows, lighting, and even find little homemaking items. Not that I compete with Joanna Gaines of today, but I did pretty well. I still keep in contact with most of my customers. It seemed like I could go on for days with the knowledge I had but had to reel it in based on customers wants. I'd load the measurements into CAD drawings and set up a design based on what the initial meeting was with the customer. We'd go over the CAD 3D drawing, most of the time I read the customer right and got a beautiful design. I also had the not glamorous job of maintaining all the paperwork, invoices, payables, as the owner deemed necessary.
In the bid or proposals were all the options, the man hours it would take, the material order time, and all the miscellaneous expenses in the project. Based on what was agreed to and a down payment was made, I would get all the materials and coordinate all the actions to get that project to completion. For the most part, projects were deemed a success and profit would show very well.
There were occasions where we would have to make aesthetic changes or hit the budget too high and had to come up with a quick and better solution. Sometimes customers changed their minds on what they thought they wanted. This would at times even put them in a bad mood because they were not clear. I had to work based or what they "kind of sort of thought" and what the actuals looked like. I was ready with an alternative of an idea which was either a hit or a miss. Most I was lucky with a hit. Sometimes there would be late deliveries of materials pushing our prospective date out a little bit. An employee would be sick and would have to find temporary workers to keep on schedule. Cabinetry doors would have to be adjusted due to temperature rise and fall, wood swells in summer and shrinks in winter.
What I've learned:
People are different and have different needs and this is something that we shouldn't look down on others for. To each their own.
Communicating clearly what you want is VERY important. Any deviation from clear and you may not get what you wanted.
Everyone sells something with their positions and titles. You are the image of that company or in your own company in how you carry yourself. Be authentic and confident. Be professional and knowledgeable.
Know both sides of the why and why not's of what you do. Or the praises and the critics. You can learn something from each to build your knowledge. Not everything needs to be taken to heart with hurt but in making you a better person for tomorrow.
Be knowledgeable when you are selling someone something. Nothing looks worse for a salesperson is to not know something about what you are selling or convincing someone else to buy. At least be willing to find out if you do not know.
If you don't believe something is a good fit for a customer, don't make them believe otherwise just to make a sales profit. Forcing people into something they don't really want isn't my idea of good sales.
No matter how well you plan, sometimes you have to go with the flow when things don't always go as planned.
When things go wrong and they will go wrong, do your best to make it right. If you have done all you can to make it right and it's still not then release it as a lesson to be learned. Sometimes it's not your wrong to bare, to begin with.
No position or job is always glamorous, even if you are living your dream job. There is no job too small or too big that you can't do. Get the small stuff taken care of to focus on breaking down the bigger pieces. Sometimes the things you don't like doing may help you in times of hardship.
The effort you make to try to help, give knowledge, and lessen the burden on someone else really comes back to you.
Since 2008 housing market dropped, I was laid off. My dream job was shattered and was a little gun shy in home projects. Time does change things and puts you in better positions with more abilities. I'm still in project management and keeping those lessons learned.