Country Scented Candles
Handcrafted Soy Candles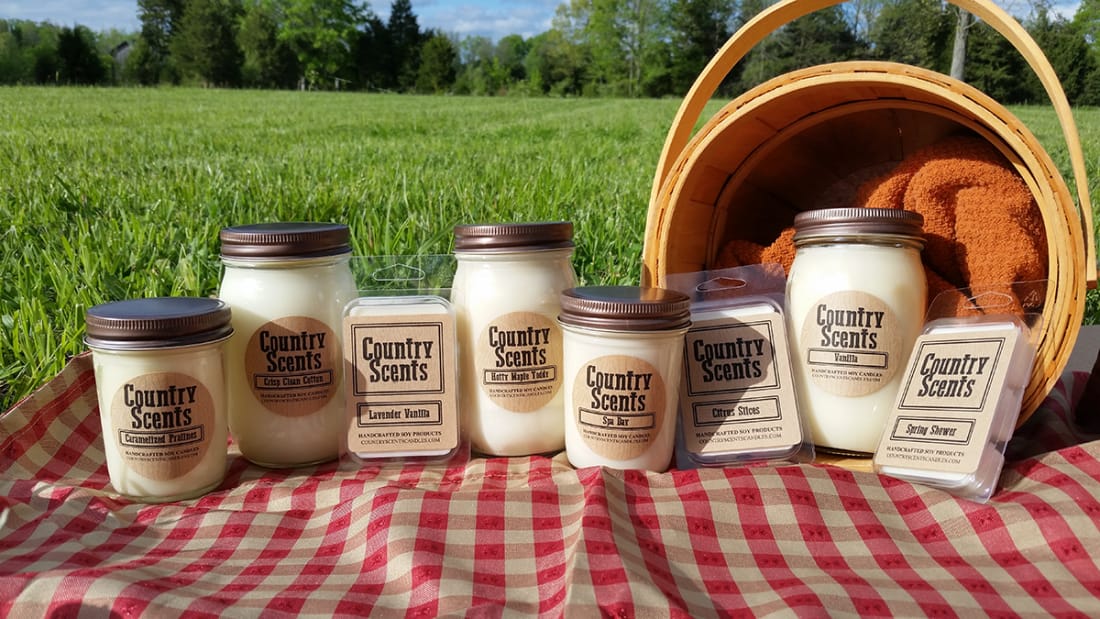 My name is Monika. I'm a stay-at-home mama who lives in Kansas. I have this at-home job to help bring in some extra income and keep me busy while my kids are at school until they get home! :) I got into selling candles because I myself LOVE candles or anything that smells good, and I'm more than sure a lot of others do too! The smell of them is so amazing, certain oils you get can be so calming. Soooo here we go!!!
If you love handcrafted soy candles, then I have some for you! We sale Scented Candles, Wick-less Candles, Wax Melts, Aroma Beads, Oils, Sprays, Stuffed Animals, Warmers for the wax and candles & diffusers for the oils. We also have Chalk paint & Gel Wax for the people that like doing arts & crafts! Come check out my page and buy whatever you want :) I also have a thing going on for Christmas!
Christmas Candle Game!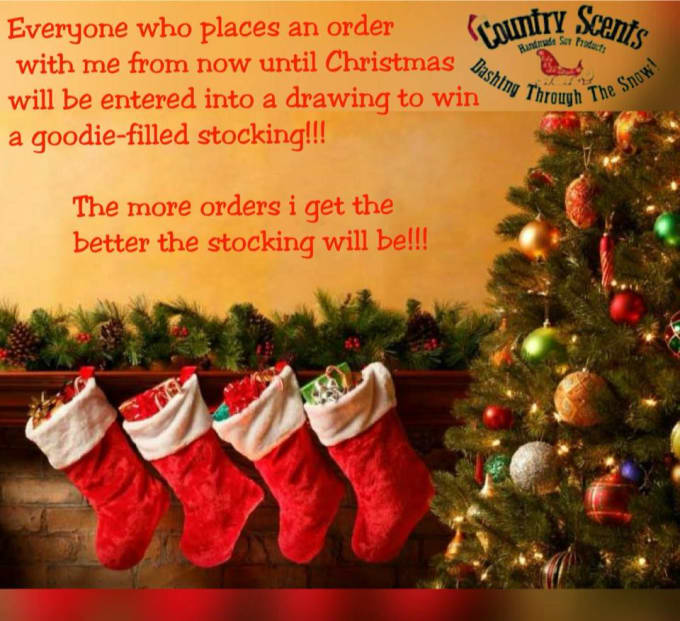 I already have 6 things in the stocking! The more you buy, the more that goes into the stocking!! Or if you have questions, you can find my Facebook page.
On my facebook page, I usually have a lot of sales going on, or games for a way to win FREE stuff! I mean, who doesn't like free things?!?!?!
Here is a list of the different kinds of scents:
Beach Day

Black Cherry Ice

Blueberry Cobbler

Brown Sugar & Fig

Calming Lavender

Caramelized Pralines

Christmas Cookies

Christmas Pine

Christmas Time

Citrus Slices

Country Apple

Crisp Clean Cotton

Fresh Breeze

Fresh Coffee

German Chocolate Cake

Hot Cocoa

Hotty Maple Toddy

Lavender Vanilla

Monkey Burps

Nutty Banana Bread

Odor Eliminator

Pumplin Dessert

Red Hot Cinnamon

Rose Bouquet

Spa Day

Spring Shower

Strawberry

Vanilla

Watermelon

Winter Frost

Those scents go for the candles, wax melts, oils and aroma beads. There are also other kinds of oils too that will be listed on the site itself. :)
We have some amazingly cute stuffed animals for the stuffed animal lovers or for the kids :) I know my kids love them and can't wait to get some for Christmas :)
You can buy some of the Aroma Beads and put them anywhere that you want to smell amazing! In your car, your closets, drawers, bathrooms, duffel bags or suitcases if your going on a trip!
We also got some amazing looking warmers and diffusers! Some of which I'll soon be owning very soon! One or both will also have a chance of making it into the Christmas stocking depending on how many sales I can get going on it!!!
Also, making your FIRST order will resort in you getting a FREE 8oz candle or a thing of wax melts :) If you make a order of $100 or more, it will get you a warmer and wax melt (scent of your choice!). Now I'd say that's one hell of a deal! I'm sure as I go and expand my business, I'll have more things for free, more games to win free things and soo much more!!! So come on over, check out my page, LIKE it, buy some things and win some free stuff!!! Prices are on the page in the pictures, but if you can't find them and don't wanna go to the site just yet, then feel free to message me on the page and I'll glad message you a list of everything! :)
If you wanna check out what we have then go to my website.
Any questions, then you can always message me on my Facebook page and I'll gladly answer any questions you have! And once you make the order, go to my Facebook page, LIKE it to get entered into a drawing, then message me and let me know when you have made your first payment and I'll check and give you a list of scents for your free candle and as soon as I can I'll mail it out to you :)
So come check out what things I have, make your first order for something Free, and like my Facebook page to have a chance to get some amazing things free :)