Journal is powered by Vocal creators. You support
Glenn Bushinski
by reading, sharing and tipping stories...
more
Journal is powered by Vocal.
Vocal is a platform that provides storytelling tools and engaged communities for writers, musicians, filmmakers, podcasters, and other creators to get discovered and fund their creativity.
How does Vocal work?
Creators share their stories on Vocal's communities. In return, creators earn money when they are tipped and when their stories are read.
How do I join Vocal?
Vocal welcomes creators of all shapes and sizes. Join for free and start creating.
To learn more about Vocal, visit our resources.
Show less
12 Top Rated Desk Accessories on Amazon
Need to clean up the clutter while staying fashionable? Check out these 12 top rated desk accessories on Amazon to help you perfect your personal work space!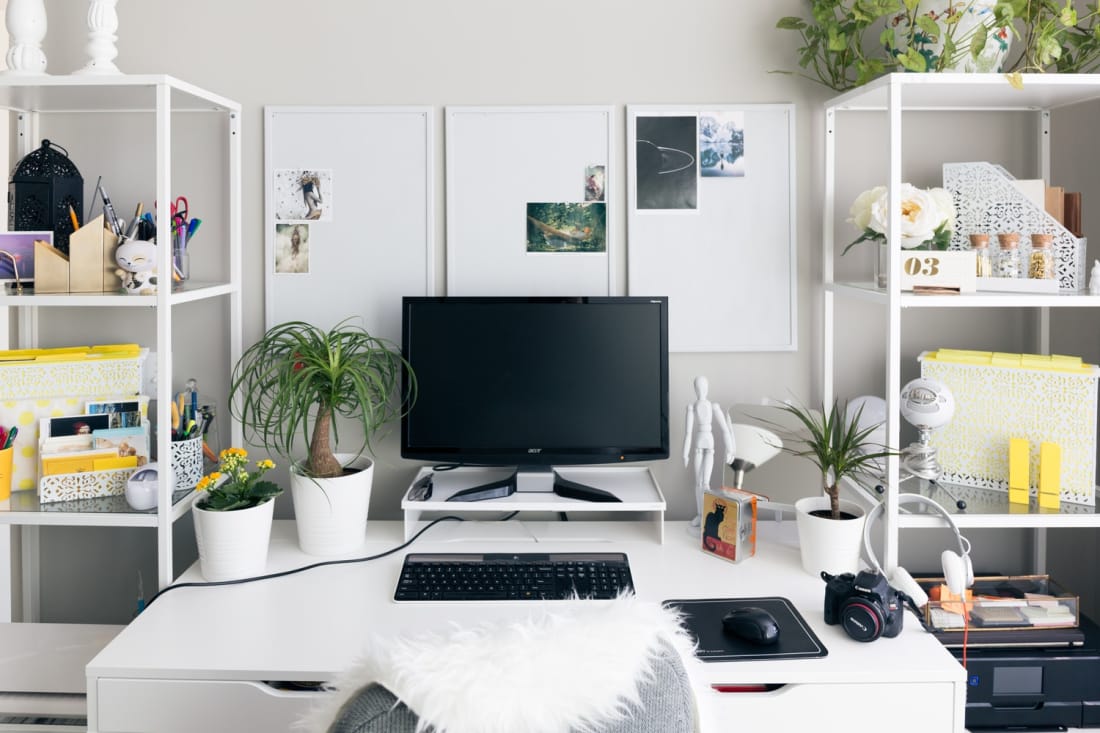 From the most comfortable chairs for your home office to helpful apps to reduce office stress, there are many ways to help increase your productivity while working. However, it all starts with an organized work space. Complementing your space with some hip and functional desk accessories will help you keep a clear mind and focus as you accomplish your assignments. Whether you plan to keep things tidy with an organizer or need to add a bit of style, beat the clutter by checking out the following 12 top rated desk accessories on Amazon. 
Clear Office Desk Drawer Organizer by DYCarlic
This little organizer is the ultimate tool for anti-clutter. We all know that person at work whose desk is jam-packed and who can't find anything when they need it. Its vertical design and intelligent use of space will help you keep your things tidy without taking up a ton of desk area.
There are two drawers, two file organizers, and a top shelf—that's a total of five different compartments. Not to mention the iPad holder and power charger in the back, this will be certain to take care of all of your needs. With a 4.5 star rating on Amazon, customers raved over its stylish appeal and its high quality acrylic.
Sleek Laptop Stand and Riser by AboveTEK
If you're spending any significant amount of time behind your laptop, whether for work or for leisure at home, you owe it to yourself to invest in an ergonomic, comfortable laptop stand to make your life easier. 
This laptop stand features a slim, lightweight design, and anti-slip rubber pads to ensure your laptop never falls off. Laptop stands are designed to reduce strain on your neck, back, and wrists, so consider checking this out if you're at your laptop for more than a few hours at a time. With 4.5 stars, customers boasted over its simplicity, effectiveness, and increased comfortability when writing making it one of the top rated desk accessories on Amazon. 
Hanging Wall File Organizer by SamStar
If paperwork, notebooks, and books are causing the majority of the clutter on your office desk, then this hanging wall file organizer is highly recommended. As a top rated desk accessory on Amazon with 5 stars, many noted how effective this was at removing clutter having good durability. By going vertical, it reduces the space it takes up on your desk itself and allows you to stay more organized at the same time. With 5 different trays as well as a simple, sleek design, this wall file organizer should fit in whether at home or in the office. 
Artificial Leather Desk Pad by LOHOME
Desk pads serve a variety of purposes: they are stylish, help comfort the hands and wrists, and provide a slight grip to stabilize whatever you put on your desk, whether it's your latest coffee or just a notepad and your phone. Furthermore, if you use it as your computer desk pad, it also functions as a pseudo mousepad, making for one less thing you need to buy to complete your desk. This particular desk pad, which is also an Amazon Choice product, benefits from a lip that comes down over the front of your desk, helping protect against scratches as well as reduce contact with potentially sharp edges and making it one of the top rated desk accessories on Amazon.
Modern Acrylic Paper Organizer Tray by Sorbus
One of our favorite top rated desk accessories on Amazon is this simple letter tray by Sorbus. It's something that can universally benefit almost any office desk: the horizontal filing system helps conserve space while reducing the amount of clutter on your desk. Its modern acrylic design coupled with its white-lacquer finish gives it a stylish appeal that will find itself welcome on almost any desk. As a bonus, multiple units of this tray can stack, meaning you can save even more room by going vertical. Among its 4.5 star reviews on Amazon, buyers noted its good price and sturdy feel.

3-Tier Stackable Desktop Letter Tray by Seville
When you're in need of some heavy duty desktop management, look no further. This stackable letter tray by Seville features 8 different organizing trays in its thrifty, low space design. There are three front-loading horizontal trays to accommodate regular sized papers, folders, binders, and notebooks; while the five top-loading vertical sorters help you organize and maintain everything else, from reference materials to receipts. The vertical sorters can be stacked on top of the horizontal sorters to help create more space or they can be used separately to accommodate different needs, making it one of the top rated desk accessories on Amazon.
Swing Arm Desk Lamp by tomons
Whether in your home office or desk at work, a swing arm desk lamp is beneficial to help reduce eye strain, provide focused light, and look stylish at the same time. This desk lamp by tomons is made of natural, chemical free wood and a nylon covered cable to make it stronger and more flexible. One of the major benefits of this top rated desk accessory on Amazon is its adjustable structure, allowing you to bend or angle the lamp at ease. Beyond just being a staple classic for any desk, this desk lamp is trendy and stylish and should stand up to the test of time.
Indoor Tabletop Geometric Plant Terrarium by NYCP
With a 4.5 star rank, this terrarium certainly places an emphasis on style, as one of the top rated desk accessories on Amazon. Its irregularly shaped geometric enclosure is both elegant and artistic. It's perfect for fern, moss, succulents, or cacti, essentially any low maintenance plant. At almost 10 inches in height, it is well equipped to fit these plants while not taking up a ton of desk space. When you can't be outside when you want to, you might as well bring some of the outside in to you. Research has long shown the benefits of indoor plants, and having some green at your desk while you work should definitely help keep the mind at ease.
Desktop Tape Dispenser by U Brands
This top rated tape dispenser on Amazon can add style while helping you keep track of your tape. Create a decorative, professional look to your work desk or home office by going with this solid acrylic core, golden tape dispenser. Tape is one of those accessories that many people have trouble finding when they need it, especially since it often comes in the cheap plastic dispensers that are easy to forget about. By having a dedicated tape dispenser, you will never have to worry about losing your tape again, all while giving yourself a stylish new object for your desk. In addition, it can sit vertically or horizontally depending on your space needs and availability. 
Acrylic and Gold Stapler by OfficeGoods
If you're tired of the same non-discreet staplers that stick out like a sore thumb, then this modern design will help bring style to your desk. With its non-skid feet and light weight (8.5oz), it can sit stylishly in any part of your desk without becoming obtrusive. If you're tired of having to tuck away your stapler deep in your desk drawer and unable to find it when you need it, then upgrading to this one by OfficeGoods should help. With its clean look, use of standard staples, and sturdy construction, it is surely one of the top rated desk accessories on Amazon.
Tower Desktop Organizer by Victor
With a smooth black matte finish and brushed metal handles, this desktop organizer will help clear the clutter and look good doing it. It has one large drawer, two small drawers, an open slot for things like reference materials, and a top shelf for additional space. It is finished all the way around (including the back), allowing you to display it proudly while taking care of all of your office supplies: whether letter paper, calculators, staplers, notepads, or otherwise, you can condense them all into this neat tower desktop organizer which is apart of the Victor Midnight Black Collection. With almost 5 stars on Amazon, many buyers have left satisfied reviews noting its high quality, perfect size, and spacious inside - giving it plenty of reason to make our top rated Amazon products list.
Concrete Desktop Planner by Kikkerland
This top rated Amazon product can add a number of benefits to your office environment. Adding green and plants to your environment can have a lot of positive effects as well. Among them include increased creativity and productivity and reduced stress. This small desktop planter by Kikkerland is perfect for getting just the right amount of green without being overbearing or taking up too much desk space. It can be easily placed on any area of the desk and even includes a multi-purpose pen holder. Made of solid concrete, it is sure to last a while, while providing an opportunity to get plants into the office, as well.
Wrapping It Up: Stay organized, clutter-free, and look stylish while doing so.
If you walk around your office at work, you might notice how boring or overbearing a lot of the desks are. Paperwork, files, notebooks, and office supplies everywhere! This eventually leads to less productivity, problems when trying to find something you need, and an overall lack of focus. Instead, stay organized, keep it simple, and add some style to your office desk or home office with these top rated desk accessories on Amazon.